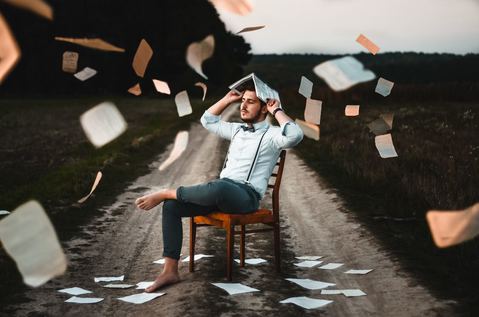 ​Ever since Donald J. Trump announced his presidential candidacy, there has been unprecedented national upheaval. Many media, entertainment, feminist, minority and political voices sought to discredit him. Most conservatives were repulsed. However, a faith-based remnant chose to support this unpolished and unpredictable man. To defend their position, they have likening him to Bible characters ranging from Cyrus to Jehu.
In my book, Calling Forth the Bride of Christ (2017), I share my insight regarding Donald Trump as well. The book is largely about my shofar trumpeting exploits, not politics. The only reason Mr. Trump is mentioned is because of his last name and its correlation to my message and ministry. I sensed this unlikely presidential contender was just as much of a sign and wonder as were my shofar TRUMP-eting activities over the last few decades. The Scriptures tell us that the Israelites sounded shofars for a variety of reasons. One of them was to warn the people. I sensed Donald Trump was making headlines for a supernatural reason. He was quite possibly a TRUMP-et blast of warning.
I have an elevator pitch for Calling Forth the Bride - "American Sniper with a shofar." Heaven knows, I didn't kill anyone outright. But I
have
done some damage to the enemy's kingdom tooting my little "twisted antler." That's how a startled New Yorker atop the Empire State Building described it. He didn't like the obnoxious noise I was making. His phone call had been interrupted by the rude, crude instrument. Despite how foolish it may have seemed to others, I knew the power of my prayerful and prophetic act. Trumpeting a shofar over the Big Apple five years after 9/11 was a holy assignment.
A decade later, when a New Yorker named "Trump" arose on the political scene, my prophetic "antennae" took notice. Could Donald figure into the "last trump" impressions I was getting? Maybe he was part of God's merciful "last chance" for the "Church" to rise up and make an impact before final judgment. The entire picture wasn't completely clear. But I couldn't get past the synchronicity of his last name and my trumpeting ministry. There was something about this guy.
God gave me a dream back in 2016 to confirm my impressions about Donald Trump but I missed it. Much later when I reread my blog posts for August of that year I finally understood. The wind storm in that dream originated in Florida. Donald Trump's landing place apart from Manhattan, New York is Palm Beach, Florida. The whirlwind in my dream represented Donald Trump. It's no coincidence that others saw Trump as a whirlwind as well. Here are some of the articles I found:
· "Trump Brings
Whirlwind
of Change in Early Days," by Jim Malone
· "Early Lessons of the Trump
whirlwind
," by James W. Antle III
· "Blood & Ruin: Trump's Brutal & Abusive
Whirlwind
," by Josh Marshall
· "Donald Trump's 2017: A
Whirlwind
of a Year," by Conrad Black
· "To evangelicals, Trump is the
whirlwind
. And they're fine with that." by Jon Ward
One avid Trump supporter, Franklin Graham, was quoted as saying "He [Trump] offended everybody! And he became president of the United States. Only God could do that." This explained why more believers were paying attention to Trump. A Calvin College philosophy professor, James Smith, believed that Trump received support from evangelicals because they tend to look for the "divine presence in the spectacular."
Jon Ward observed that "Trump fit within their [evangelicals] understanding of how God works to bring about change and renewal, and God, as we know, works in mysterious ways." Jim Malone claimed that Trump supporters were thrilled he would become the 'disrupter-in-chief. And finally, Conrad Black noted that: "Donald Trump was a joke until nominated, unelectable until elected, incompetent until he succeeded on most fronts, and about to be impeached until he debunked the collusion nonsense; he has had a very successful year. His enemies have been
weighed in the balance and they have been found wanting.
"
Conrad's final sentence comes from the prophet Daniel's interpretation of the mysterious writing on the Babylonian palace wall (Daniel 5:26-28). He warns the prideful King Belshazzar of three things:
1. God has numbered the days of your reign and brought it to an end
2. You have been
weighed in the balances (on the scales) and found wanting
3. Your kingdom has been divided and given to the Medes and Persians
The TRUMP-et has sounded. The negativity in our nation must end. The Whirlwind has been loosed. We are in the last days!
Behold the whirlwind of the Lord goes forth with fury, a continuing whirlwind; it will fall violently on the head of the wicked. The fierce anger of the Lord will not return until He has done it, and until He has performed the intents of His heart. In the latter days you will consider it (understand it perfectly).
(Jeremiah 30:23-24, emphasis added)
​
References:
Raisa Bruner, "What it's like to stay at Donald Trump's Florida resort home, the Mar-a-Lago Club,"
Business Insider
, March 16, 2016,
www.businessinsider.com
Caroline Taylor, Two Major Democrats Go Behind the Lines at Trump's Mar-a-Lago,
Vanity Fair
, March 15, 2016,
www.vanityfair.com
Jim Malone, "Trump Brings Whirlwind of Change in Early Days,"
VOA
, January 30, 2017,
www.voanews.com
James W. Antle III, "Early lessons of the Trump whirlwind,"
The Week
, January 27, 2017,
www.theweek.com
Josh Marshall, "Blood & Ruin: Trump's Brutal & Abusive Whirlwind,"
Real Clear Politics
, July 2, 2017,
www.realclearpolitics.com
Conrad Black, "Trump's Whirlwind Year,"
National Review
, December 19, 2017,
www.nationalreview.com
Jon Ward, "To evangelicals, Trump is the whirlwind. And they're fine with that"
Yahoo News
, May 24, 2017,
www.yahoo.com
​Photo
​https://unsplash.com/photos/O33IVNPb0RI?utm_source=unsplash&utm_medium=referral&utm_content=creditCopyText