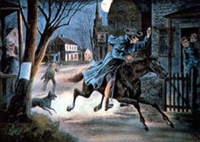 Paul Revere rode through the night to alert militias of the enemy's movements. After a recent dream, I am likewise compelled to sound an alarm for God's people to remain vigilant. The enemy is mobilizing with counterfeit spirituality, but our lights can pierce through this midnight hour if we are willing to watch and pray. Keep reading for the dream details and interpretation below.
I was aware that it was the anniversary of Paul Revere's great ride. Another great rider appeared dressed in a blue 1700's uniform with high black boots.(American Revolution uniforms and attire varied widely)

It was very dark outside. I saw two churches. The first one was a single-room, white, clapboard structure from the 1700's. There was a tall steeple and tall narrow windows through which a single lighted candle could be seen. There was no one around.

The second church had a very modern roof design similar to massive outdoor concert pavilions. It also had a steeple but no walls. A very large, bright candle gleamed into the darkness from the open structure's center. Many people gathered in and around it holding what seemed to be candles as evidenced by the multitudes of tiny glowing specs. It was like a vast array of stars visible in an ebony sky, far from city lights.

High on a hill to the left of the modern church was a rugged wooden cross. On top of this crucifix was a votive candle in a glass cup. This was the last stop for the blue-uniformed rider. It wasn't clear if the candles were lighting his way or if he was lighting the candles, but he was definitely lighting this third candle. It had been lit before and now he was attempting to light it again using a modern lighter "gun."

Even with that, he couldn't get the candle to remain burning. As quick as the flame took hold it was blown out again by the persistent wind. Finally giving up, he called to me saying, "I did light it but it went out! Come look, you can see that the wick is black. I did light it!" Standing there for a few minutes he paused but no one was interested.

The area around the cross was now a brightly illuminated interior - with artificial lighting. The soldier had flopped face down on an old wooden pew, spent and perhaps despairing over his failure. After a few minutes he fell off the pew onto the floor face down. This drew the attention of a grey-uniformed soldier (of the same era) who pulled away from the small group of similarly attired soldiers nearby. Reaching for the fallen soldier "Grey" pulled "Blue" up off the floor by grasping the back of his black belt. "Grey" returned to his group of grey-clad comrades with "Blue" hanging from his hand like a limp, rag-doll - almost folded in half. It was unclear what would become of this spent rider.

Interpretation/Analysis/Thoughts

Paul Revere was a silversmith involved in the Sons of Liberty in Boston. Revere helped establish a rapid warning system of church bells, drums, gunshots, trumpets (yes!) and bonfires. These were used to alert the militias of British troop movements for the Lexington and Concord battles. Revere's famous ride occurred 4/18/1775. On a personal note: It's interesting to me that we lived in Concord, NC and have family now living in Lexington, KY. Maybe that explains the stirring in my spirit when I saw his grave and home while walking Boston's Freedom Trail in 2006.

The Henry Wadsworth Longfellow poem talks about lantern signals, "One if by land and two if by sea." Boston is known as the seat of liberty and unfortunately has been the seat of homosexual ascendancy as well. In my soon-to-be published book, Calling Forth the Bride of Christ, Boston is discussed at length.

Blue represents, Hope; Healing; Grace; Freedom; Holy Spirit & Anointing; Heavenlies; Holy Ground, where God is and how large He is, Holy; Revelation (Exodus 24:10, Num. 15:38)[www.colorsofpraise]. Grey represents the enemy in this dream (Gen 42:38, Rev 12:9)

The historic church served its purpose but the religious traditions it represents are no longer relevant. The modern church without walls is making an impact and spreading the light of the Gospel. However, it seems the multitudes of lights should have created more illumination.

The concern being addressed by the "Blue" night rider is the tendency for the cross of Christ to be left out. The votive candle represents the prayers of believers. The modern Paul Revere could not reignite this flame because of the wind which represents adversity, the cares of this world, natural disasters or demonic interference.

The light has been lit before. This third light may represent the Third Day (also discussed in Calling Forth the Bride of Christ) or the Third Great Awakening that will precede the last-days harvest of souls into God's Kingdom. This "Blue" rider recognized the importance of prayer to usher in this movement of God.

Without it there's a sense of hopelessness, powerlessness and despair which leaves us vulnerable to an enemy who operates within an artificial or counterfeit light. Prayerlessness leads to spiritual slumber and makes us an easy target for the enemy to hold us like a cat grabs a helpless kitten.

This is certainly a wake-up call to me. Despite all the business of life and work, I must keep corporate and personal prayer times a priority. And no matter how unwelcome I must uphold the message of the cross if I hope to ignite a bonfire in my sphere of influence. Light the fire again, Lord!!