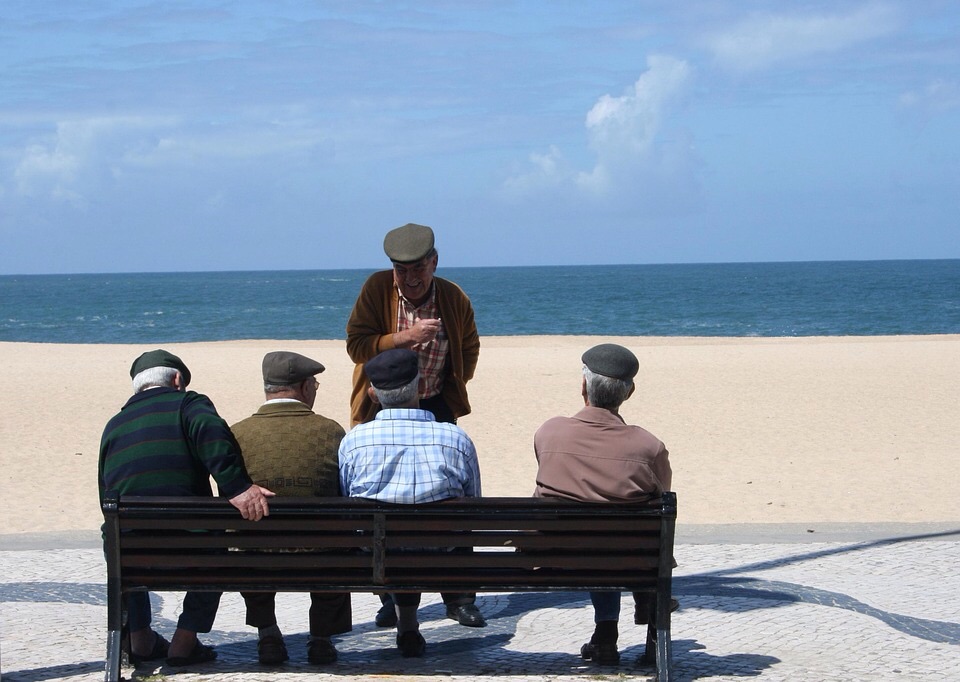 Apparently not! Just ask the 82 year-old, late-term abortionist in Fort Myers, Florida. Apparently this doctor and his wife have been in business forty years with no plans for retirement. The conviction that he's doing women a great service is what propels him. We could all learn something from this.

I recently read a prophetic message by Bill Yount (elijahlist.com 03/19/16) that predicted seniors (particularly men) launching into a new season of ministry! He declared "re-firing coming upon the re-tiring" and "rocking chairs becoming rocket chairs." This was encouraging with my father-in-love landing in assisted living at 80 and decrying his misfortune.

With a little encouragement he decided to bloom right where God planted him. He and mom used to conduct church services at a nursing home with friends years ago. Now they are doing it again, just from a different angle. So who cares if their memory is a little rusty or they cancel when they are too exhausted and overwhelmed. They are taking ground one day at a time and every step along the way makes a huge difference to compatriots on the precipice of eternity.

With eighty-year-old abortionists making us older Christians look bad, we need to don more than just spiritual athletic shoes to keep pace! Hoping an early start at this will keep me limber longer, I have become an avid cyclist, interceding as I go. This peddle/prayer ministry recently had me crossing paths with Reitha, a lovely retired nurse very familiar with the afore-mentioned doctor. This precious pro-lifer, along with her dear husband, were holding signs as they stood on the sidewalk outside this particular late-term clinic.

Having just prayed for the seniors of Fort Myers to arise and shine their lights, I was elated to see immediate evidence that God was already at work. I had no idea I'd been prayer/peddling along a highway that had become a spiritual battleground. A few days later, while riding past the Planned Parenthood clinic on the other side of the city, I met Brian Walker. This handsome chap holds this corner every Tuesday morning with his hand-made sign that says "Abortion Stops a Beating Heart." Brian is 81.

A few days later, Reitha invited me to join their sidewalk entourage where we first met. This time on a Saturday morning. As my husband and I approached the site I nearly wept at the sea of smiling faces! We learned later there were 152 men, women and children. They held a variety of signs - "Pray for the End of Abortion," "Men Regret the Loss of Fatherhood," "Moms for Life," "Stop Abortion Now," etc. Countless cars, trucks and tractor-trailers slowed down to honk their horns and give us a thumbs up.

The majority of sign-holders that morning were senior citizens, many of them were men. Even 81-year old Brian was there. Another patriarch, John, was 82 and accompanied by his wife Lorraine. Dennis, a 78 year-old widower and active since the 90's, handed out a list of pro-abortion stores to boycott. Then I met Dan, age 65, who also holds the corner at Planned Parenthood every Thursday morning. God was making His point very clear.

I used to be very active in the pro-life movement and then relocations and life made it easy to get uninvolved. This was justified by the belief that younger people with more time and energy could carry the torch. But all these concurrences in Florida's "retirement haven" reminded me to renew my fervor and rekindle my flame. This was one torch I should carry to my grave.

We heard that the other shopping center businesses were calling property management to complain about our presence.That's what it takes for a lease to be revoked. This meant the gathering had been effective in alerting the community of the looming darkness. Hoorah for Jesus and His senior citizen gatekeepers. Fort Myers will see the victory. Let's pray this doctor has a power encounter with Jesus Christ! Wouldn't it be awesome to have this Energizer Bunny on our team?