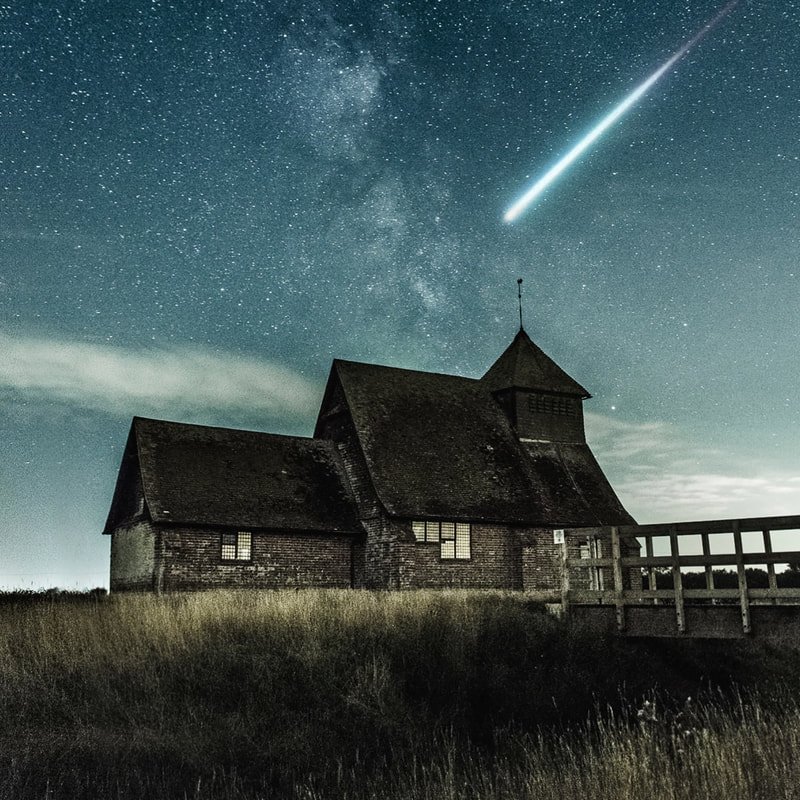 ​This is a follow-up to my January 23, 2018 post entitled, "Did We Dodge a Bullet?"
While looking at my "Coast to Coast AM" news app on January 17th, I noticed a very interesting story. It caught my attention because of my recent reflections about asteroids. Apparently, the subject of space rocks had recently been addressed by another person in Christendom. This time it was Rick Satterfield, pastor of "I Am Church" in South Rockwood, Michigan – a Detroit bedroom community.
Pastor Rick Satterfield had a dream about a meteor coming to the Great Lakes area. He shared this vision on New Year's Eve 2017 - two months after the World Series win by the Astros. Satterfield said the impending meteor he envisioned would have such an impact that Canada and Ohio would feel it.
The
prophetic pronouncement was fulfilled on January 16 - nearly a week after I posted my impressions about the World Series and asteroids. The meteor reportedly rattled windows all over Detroit and caused a 2.0 magnitude earthquake. The bright flash was seen in Pennsylvania, Ohio, Indiana, Missouri and Ontario.
​To demonstrate that Pastor Rick and I are talking about the same galactic objects, let's look at a few definitions.
Asteroids
are space rocks orbiting around the sun. They become
meteors
when they enter Earth's atmosphere. Those that burn up are known as shooting
stars
. If they explode in the atmosphere they are called "
bolide
s" or "
fireballs
." When they hit the ground, they are labeled "
meteorites
."
Although Pastor Rick and I reference the same phenomena, we each have a different view of its prophetic meaning. He didn't believe the meteor in his dream was a warning. Instead, he felt it foretold God's anointing and power coming to the Church. The pastor also thought it pointed to a revival that would bring people of all religions and backgrounds together. He believes it is a sign that God is going to bless people mentally, physically and financially.
These impressions made me revisit the meaning of the Florence asteroid that flew by on September 1, 2017. The name
Florence
comes from a Latin word which means "blossoming" or "to flower." The
nameberry.com
website suggests the name means "flourishing" and "prosperous." Maybe that's where Satterfield is getting his positive impressions. It's exactly what every believer would like to see for the Body of Christ in these last days. It's certainly my hope as I anticipate a final momentous harvest of souls for God's Kingdom.
To further explore the symbolism of the Florence asteroid, we should consider the most noteworthy historical figure with this name - Florence Nightingale. This Italian born (1820) Brit was a statistician, social reformer and mother of modern nursing. She traveled to the Crimean War (1853-56) to care for wounded soldiers. This is where she became known as the "Lady with the Lamp." My mother-in-love's name is Florence and she is the nicest person I've ever met. Much like her namesake, Mom is the lamp-holder in the family. The name "Florence" conjures up nothing but good thoughts and feelings, at least for me.
To conclude my ponderings, I wonder if maybe there are dual messages behind these astral signs. This morning I randomly opened my Bible to the book of Joel. This unknown and obscure prophet warns of dire judgment but in the midst of his oracle he declares God's mercy and goodness for the repentant. So, with that, I will believe that Pastor Rick and I are perceiving the same signs … just from two different perspectives. I will continue to fulfill my role as a watchman and pray that Pastor Rick is right about everything else he said on New Year's Eve. If he believes God is going to bless His people in this season, then I am all for it.
"Hear this, you elders, and give ear, all inhabitants of the land! Has anything like this happened in your days, or even in the days of your fathers? Tell your children about it, let your children tell their children, and their children another generation."
(Joel 1:2-3)
References:
"Michigan Pastor Predicted This Week's Meteor on New Year's Eve!"
Coast to Coast AM
, January 19, 2018,
Coast to Coast
​
Robert Allen, "Downriver pastor predicted Michigan meteor – a month ago,"
Detroit Free Press
, January 17, 2018, Michigan Free Press
https://www.freep.com/story/news/local/michigan/wayne/2018/01/17/michigan-meteor-prophecy/1040878001/
Nancy Atkinson, "What is the difference between asteroids and meteorites?"
Universe Today
, December 23, 2015,
https://www.universetoday.com/36398/what-is-the-difference-between-asteroids-and-meteorites/.
Lindsey Bever, "Watch the amazing moment a 'rare' meteor burst across the night sky over Michigan,"
The Washington Post
, January 18, 2018,
https://www.washingtonpost.com/news/capital-weather-gang/wp/2018/01/17/
Louise Selanders, "Florence Nightingale,"
Encyclopedia Britannica
, last updated January 18, 2018,
https://www.britannica.com/biography/Florence-Nightingale
​
Photo by Alexander Andrews on Unsplash
.