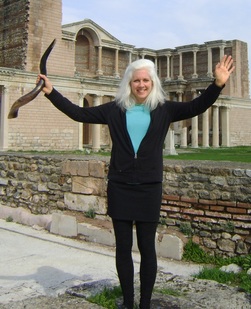 Like many of you I have faithfully served the Body of Christ for decades...quietly and behind the scenes for over thirty years. Functioning in every imaginable capacity - from babies to the boardroom and everything in between - I learned that my passion was prayer and the prophetic. A dedicated revivalist, I have trumpeted a shofar around the USA and overseas calling forth Christ's Bride to arise with power and purity. However, it took a while for me to figure out what I was doing. In that season of blind obedience, God allowed me to "wear the hat" of life-coach, prayer counselor and mentor.
​
My Christian journey started after marrying my college sweetheart, Russ, in 1984. A Catholic girl and Protestant boy - well, lets just say, that Miami University "merger" provided some interesting "tension." Initially pursuing a career in public and corporate accounting, I soon graduated to motherhood, various entrepreneurial pursuits and Christian ministry. Now an "empty-nester," I manage to do even more reading, writing and arithmetic! Still employed part-time in accounting and finance, I squeeze in research, domestic & foreign travel, gardening, vegan cooking, cycling and of course "word architect" projects.

As a long-time health enthusiast and wellness coach, I plan to re-release my first book, HEALTHY WELLthy and WISE (2008). It's a commentary on being a Christian and vegan - which really don't have to be mutually exclusive! Soon a recipe book and wellness plan will round out this repertoire – the latter to be laced with humorous and harrowing experiences keeping a family well in a severely toxic world. This book is a call for the Bride to be physically healthy while my latest book is a call for spiritual wellness.

My blog page has my latest dreams, impressions and revelations from the Holy Spirit. Adding your thoughts and experiences to the conversation will make this much more interesting for all of us. So I really look forward to hearing from you and hope you are blessed and encouraged by this little online reading nook.
____________________________________________________________________________________________________________
The above picture was taken on 3/3/16 at 3am USA time, I sounded my small shofar at the oldest & largest Synagogue in Asia Minor (ancient Sardis) on the 3rd day of our Turkey tour in light of Revelation 3:3 - Go back to what you heard and believed at first; hold to it firmly. Repent and turn to me again. If you don't wake up, I will come to you suddenly, as unexpected as a thief.

​Beloved, let's WAKE UP!!
---